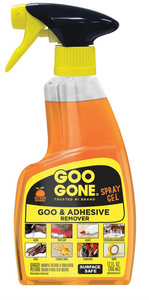 PJ Gaffers Expendables
GOO GONE CITRUS SPRAY 12OZ.
Regular price
$8.95
$0.00
Unit price
per
The Goo Gone's line of products is a trusted brand, we stand by our products for all of your dirty, sticky, messes. Safe for you, your surfaces and your home. Please explore our line of Goo Gone Original, Pro-Power, All Purpose, Sticker Lifter, Spray Gel, Patio, Grill, Oven, Automotive, Tile & Grout, Clean Up Wipes, Kitchen Degreasers, Paint and more. There are so many ways to remove tough messes with Goo Gone Products. Specifically formulated with Citrus Power, Goo Gone's portfolio of products effortlessly cleans up stains and sticky messes around your entire home. From gum to grease, fabric to fiberglass, you can count on Goo Gone to safely remove almost any problem and restore your surfaces to their original condition. If you can't undo it, un-goo it. Remove sticky, greasy messes with Goo Gone Original and return your surfaces to their original condition. Try it on stickers, wax, markers, crayons, glue, tar, window decals, glitter, gum, labels and so much more. There are multiple uses around the house for Goo Gone Original. Everything from wine glass label remover, scuff eraser, window sill cleaner, adhesive remover, tar cleaner, crayon drawing eraser, to glue remover. Goo Gone is safe on cars, we suggest to test on an inconspicuous area before using it in full. After you're done, wash the area with hot, soapy water. Do not allow Goo Gone Original to sit on rubber as it can deteriorate it.
Trusted #1 brand for removing Gooey Messes – try it on gum, crayon, tape residue, glue, pen and much, much more
Safely remove Goo from your surfaces - the surface-safe formula removes the goo without harming your surface, so you don't lose the finish, strip away the paint or incur damage while removing a sticky mess
Clinging spray gel formula - for adhesive removal specifically formulated to cling to goo on vertical surfaces giving the product time to break down the adhesive
Drip-free is the way to be - Goo gone spray gel clings to stains and sticky messes while protecting the surface below
Drip free
Designed to not leave a mess
Citrus scent
---