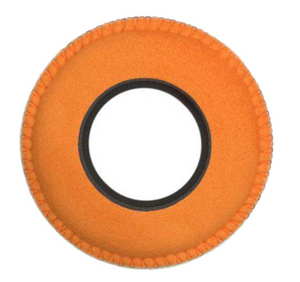 PJ Gaffers Expendables
EYE CHAMOIS ORANGE - ROUND LARGE
Regular price
$10.00
$0.00
Unit price
per
Bluestar chamois eye cushions are exclusively made from the highest quality genuine oil-tanned Lambskin English chamois leather. The chamois is wheel-buffed to downy softness, making it the best thing to wear against your own skin. It is non-irritating, non-allergenic and fragrance-free.
A new eyecup cushion model crafted from microfiber synthetic leather has been added to Bluestar's line for those seeking an alternative. Whether you opt for the oil-tanned chamois or the synthetic leather models, these eye cushions give maximum absorbency, making them perfect for the camera operator working on a hot set or in a hot location.
The fleece eyepiece cushions are perfect for cold weather shooting. The warm, soft surface is so comfortable, you'll forget all about the climate and be able to focus completely on your shot.
Each eye cushion is individually sealed in a plastic bag ensuring absolute cleanliness and sanitation until it is put on the camera. Bluestar eye cushions are welded rather than stitched, thereby providing increased comfort around your eye. Furthermore, unlike other eye cushions, Bluestar's extra-thick foam backing provides an excellent light seal with even the gentlest eye pressure. When gently stretched, the cushion's flexible construction conforms to fit snugly and securely around both circular and oval viewfinder eyecups.
Bluestar Eyecusions: Increased comfort, decreased fatigue, guaranteed sanitation!
---